Garmin Dive Computer Workshop
Enhance Your Dive Experience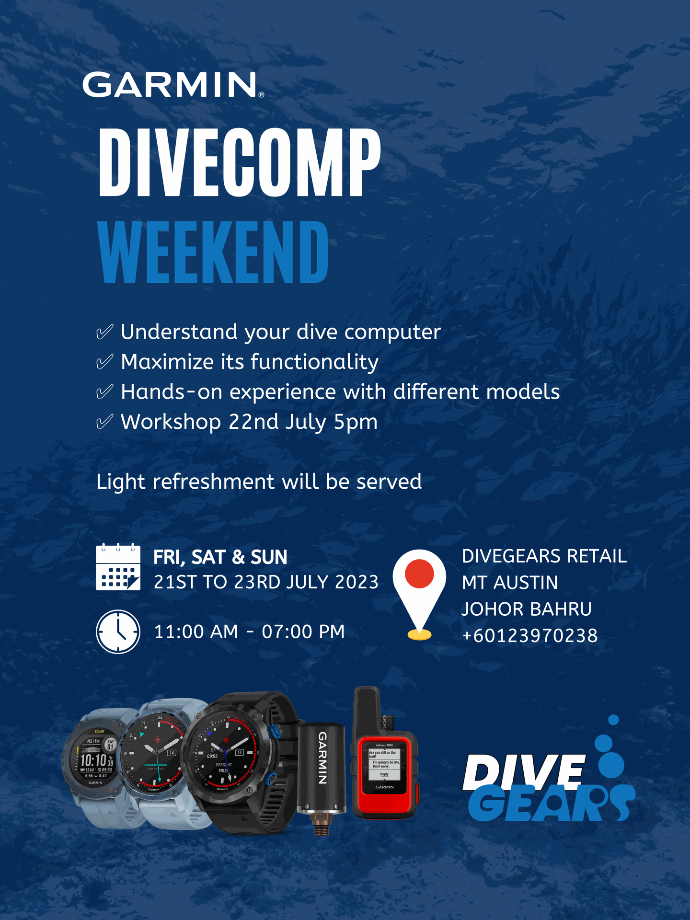 🌊📚🔬 Join us for the Ultimate Garmin Dive Computer Workshop! 🌊📚🔬
Calling all passionate divers! Are you ready to take your underwater adventures to the next level? Look no further! We are excited to announce the organizing of a comprehensive Garmin dive computer workshop, designed to help you understand your dive computer and maximize its functionality. Get ready for an educational and hands-on experience like no other!
📅 Date: 21st to 23rd July 2023
🕘 Time: 11 am
📍 Location: Divegears Distribution Retail @ Mt Austin Johor Bahru
🔍 Discover the Depths of Knowledge:
At this exclusive workshop, our team will guide you through the ins and outs of Garmin dive computers. Whether you're a beginner or an experienced diver, this workshop will help you understand the advanced features and technicalities of your device. Learn how to read and interpret the data displayed on your dive computer, customize settings for optimal performance, and troubleshoot common issues.
🤝 Dive into a Hands-On Experience:
We believe that the best way to learn is by doing! During the workshop, you'll have the unique opportunity to explore a wide range of Garmin dive computer models. Our team will provide hands-on demonstrations, allowing you to familiarize yourself with the different features and functionalities of each model. This hands-on experience will enable you to make an informed decision when it comes to choosing the perfect dive computer for your needs.
💡 Workshop Highlights:
✅ Dive computer basics and terminology
✅ Navigating through menus and settings
✅ Interpreting dive data and logs
✅ Utilizing advanced features and functions
✅ Tips for maximizing battery life
✅ Troubleshooting common issues
✅ Comparing different Garmin dive computer models
✅ Q&A session with our expert instructors
🎟️ RSVP:
🌊 Dive in with Confidence:
Whether you're an avid diver or just starting your underwater journey, the Garmin dive computer workshop is your gateway to unlocking the full potential of your device. Expand your knowledge, connect with fellow divers, and gain the confidence to explore the depths like never before!
For any inquiries, please contact our team at 0123970238 We look forward to diving deep into the world of Garmin dive computers with you!
🤿🔍🐠 #GarminMalaysia #GarminDescent #GarminMY #GarminDiveWorkshop #ExploreTheDepths #DiveWithConfidence